Il palinsesto della catastrofe. La metafora tra lirica e scienza nel barocco meridionale, Edizioni di Storia e Letteratura, 2023, is the outcome of four years of research carried out by Antonio Perrone within the DisComPoSE project.
This volume represents the theoretical framework of a previous anthology dedicated to Baroque poetry La Scelta di poesie nell'incendio del Vesuvio. The author analyzes the poems and develops a discourse on the rhetorical forms present in them. The analogies, metaphors, and hyperboles on the basis of which the 'lyrics of disasters' are structured allow us both to understand in-depth the storytelling process of the catastrophe and to explain how a horrific and calamitous event gives rise to a new concept of poetic wonder.
This type of literature, which has its theoretical and geographical centre in the Spanish Kingdom of Naples, thus proves to be a privileged field of study for understanding the processes of invention and eloquence in Southern Baroque, and provides a detailed map of motifs, themes, and topoi of seventeenth-century poetry.
Given the copious production of poetry on the theme of catastrophe between about 1585 and 1690, it is possible to speak of a real literary genre that reinvents and redefines the theory of Italian and European literature, as evidenced by the fruitful discussions held during this period in the Neapolitan Academies: the Svegliati, the Oziosi and the Investiganti.
The book offers a careful reading of this bizarre editorial product, which mixes the knowledge (and the language) of hard sciences (chemistry, astronomy and medicine) with religious and mythological beliefs. It also represents an attempt at a topical reading of Baroque literature, which finds its recurring motif in the observation of natural phenomena and its best stylistic achievement in the representation of catastrophes.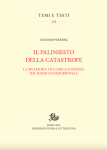 http://discompose.unina.it/wp-content/uploads/2023/03/serpente-vulcano.jpeg
1200
872
manuelapittera
http://discompose.unina.it/wp-content/uploads/2019/02/ultimo.svg
manuelapittera
2023-03-06 14:26:48
2023-04-03 16:15:58
The Palimpsest of the Catastrophe