As part of the program of seminars promoted by the Istituto Nazionale di Geofisica e Vulcanologia (INGV), Dmitri Rouwet and Carlos Caracciolo have organized a meeting dedicated to the inquiries performed within the DisComPoSE research project. The aim is to highlight how closely the study of sources about natural disasters in the early modern age needs to be related to an analysis of the development of the naturalistic knowledge of that time.
On March 9th at 11.00 a.m. at the INGV in Bologna Matteo Lazzari will hold a seminar entitled The Popocatepetl in Bologna. Ulisse Aldrovandi and the study of American volcanoes at the end of the sixteenth century, which is the result of a research study carried out at the Museum of Palazzo Poggi and the University Library of Bologna.
The scholar  will emphasize the intense circulation of information regarding the nature of the New World. This network, in fact, increasingly investigates the close ties that existed between the Italian peninsula and the American territories under the rule of the Spanish crown.
Attention will also be focused on illustrating the knowledge gathered and the sources used by the Bolognese naturalist to create the first Italian printed representation of an American volcano, with extensive references to Etna and the classificatory category of mons flammivomus.
If you are interested in participating online, please send an email to seminari.bo@ingv.it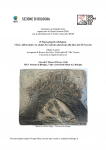 http://discompose.unina.it/wp-content/uploads/2023/03/Banner-Lazzari-INGV.png
752
906
manuelapittera
http://discompose.unina.it/wp-content/uploads/2019/02/ultimo.svg
manuelapittera
2023-03-06 12:45:51
2023-03-06 14:19:51
The Popocatepetl in Bologna