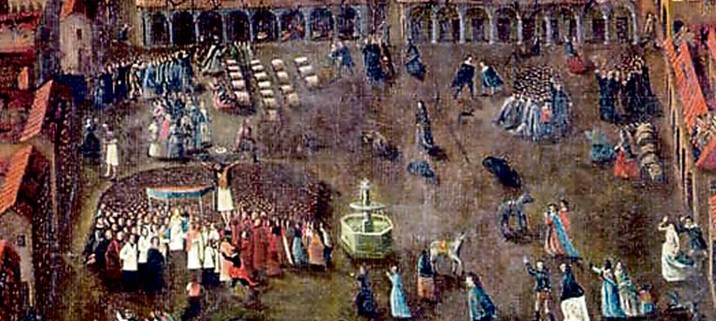 Several members of the Rexpublica project and the DisComPoSE project attended the conference Desastres en la América colonial Hispánica. Redes, circulación de la información y memoria (siglos XVI-XVIII), organized on 13th September at the Pablo de Olavide University. The presentations were organized in two sessions chaired by the P.I.s of the two projects: Manuel Herrero Sánchez and Domenico Cecere.
Jonatán Orozco, Yasmina Ben Yessef, Gennaro Varriale, Maria Eugenia Petit-Breuilh, Manuel Lucena and Valentina Favarò focused their speeches on topics related to the dissemination of information on natural disasters which occurred in Spanish colonial America from the 16th to  the 18th century.
In particular, the DisComPoSE researchers Gennaro Varriale and Yasmina Ben Yessef Garfia discussed similar topics with a different methodology. The first illustrated some processes of the transmission of news about catastrophes that occurred in America under Hispanic jurisdiction in the 16th and 17th centuries and compared them with those deriving from other disasters that occurred in the Philippines and in the Mediterranean area. With these examples, the researcher demonstrated how information circulated through extra-official channels in which a multitude of agents participated (merchants, ambassadors of the Monarchy and agents of the nobility based in Madrid). Varriale pointed out how, after a calamity, information continued to circulate at a great speed, thus demonstrating that, contrary to what some other studies have argued, disasters did not temporarily paralyze the transmission of news. In fact, on the contrary, it increased. Ben Yessef, on the other hand, presented narratives of earthquakes produced by ecclesiastics in the viceroyalty of Peru and in the kingdom of Chile in the second half of the 17th century. The researcher showed how the catastrophes conveyed the secular conflicts existing between 'the two knives': that of the temporal and spiritual power. Through the study of the text Govierno eclesiastico y pacifico by the Augustinian friar Gaspar de Villarroel, bishop of Santiago, she highlighted the conflicts between Church and State that existed at the time of the earthquake of 1647 and illustrated how these influenced the definition of the phenomenon. The researcher also analyzed perspectives similar to that of Villarroel adopted by other clergymen on the occasion of successive earthquakes that occurred in the same geographical area. According to Ben Yessef, such stories must be explained in the light of broader processes that consider the questioning of the royal vicariate in America, the claims of the local clergy against the peninsular clergy and the specific interests of each subject involved.
During the final session of the meeting, Armando Alberola reiterated the importance of the collaboration between the two research groups and highlighted how the fruits of this cooperation can contribute to the enrichment of the current historiographical overview.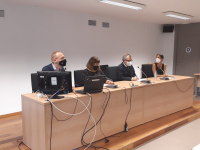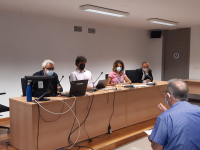 Download the programme of the conference
Go to the video-recording of the first session
Go to the video-recording of the second session
http://discompose.unina.it/wp-content/uploads/2021/10/Terremoto-di-Cusco-1-2.jpg
449
716
manuelapittera
http://discompose.unina.it/wp-content/uploads/2019/02/ultimo.svg
manuelapittera
2021-09-14 17:25:10
2023-02-28 17:00:25
Rexpublica and DisComPoSE in discussion