The online exhibition Paper eruptions. Four Centuries of Volcanoes in Print is the result of a collaboration between the scientific and library staff of the Bibliotheca Hertziana – Max Planck Institut für Kunstgeschichte and the members of the DisComPoSE research group.
Many rare works dedicated to the natural disasters that have marked the history of the Kingdom of Naples during the early modern age are the subject of this digital exhibition. During 2022 some of these books will also be exhibited, in rotation, in the rooms of the Institute.
Although the bibliography on Vesuvius begins with the great eruption of 1631, the volcanic phenomena of the Roman Campania Felix had not ceased to attract the interest of travellers and 'health tourists' throughout the Middle Ages and the early modern age, obtaining a prominent place within the tourist guides and works addressed at admirers of antiquities who progressed south of Rome. However, the cultural impact of the eruption of Vesuvius in 1631 is undeniable. This event constitutes a real watershed for the history of Naples and its territory and marks the beginning of the continuous activity of "the Mountain" for the following two centuries. Writers, historians, artists, and travellers focused on this with constant interest. During the 18th century they were joined by naturalists who laid the foundations for the birth of modern geology and volcanology.
The six sections of the exhibition retrace this important thematic pathway in European publishing and visual culture from the 16th to the 19th century.
The digitized volumes of the exhibition can be consulted in the DLIB digital library (for links please refer to the individual entries).
All the texts are in the process of neural transcription through Transkribus to allow textual research for those scholars who want to investigate this material in the future.
Go to the exhibition Paper eruptions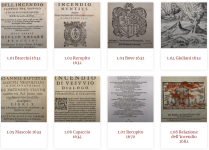 http://discompose.unina.it/wp-content/uploads/2022/04/Vesuvio_Intro.jpg
1659
2469
manuelapittera
http://discompose.unina.it/wp-content/uploads/2019/02/ultimo.svg
manuelapittera
2022-04-01 13:20:46
2022-05-10 22:22:03
Paper eruptions. Four centuries of volcanoes in print