DisComPoSE took part in the eighth edition of Rencontres Recherche et Création. La mémoire du future (At the crossroads of research and artistic creativity. Memory of the future) organized by the French National Research Agency (ANR) and the Avignon Festival at the St. Louis Cloister Avignon and online.
In the session Escape from the past Domenico Cecere reflected on how to escape from the past when a catastrophe leaves ruins and desolation, and when the memory of the past weighs on the present and the future.
In his speech on 8th July entitled Stories of disasters and dreams of the future, Cecere illustrated how in the aftermath of the natural disasters of the early modern age, writers and statesmen educated in the culture of the Enlightenment tried to see signs of a better future.In Early Modern Europe, as nowadays, disasters have very often had the effect of stimulating the exchange of information and social interaction: the sharing of stories, memories and opinions became more lively in the aftermath of extraordinary and disastrous events. Thus, the archives abound with testimonies from survivors and observers, and these documents aroused great interest among contemporaries. The exceptionality of the natural phenomena described, the drama of the single testimony and the severity of the damage reported influenced the collective image and led some scholars and politicians of that time to consider the possibility of a palingenesis after the disaster. The perception of the survivors' pain and the desolation in the affected regions did not stimulate a search for meaning and some observers foresaw the possibility of a better future in the ruins of the cities. This tendency is particularly evident in the eighteenth century, when the idea of ​​regeneration after a calamity spread in Europe among literati and statesmen imbued with the Enlightenment culture: the idea was established that the tabula rasa produced by a disaster could be an opportunity to start urban transformation projects which would facilitate the reform of society and customs.
Download the Programme of the event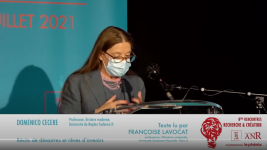 http://discompose.unina.it/wp-content/uploads/2021/07/image66.jpg
677
1002
manuelapittera
http://discompose.unina.it/wp-content/uploads/2019/02/ultimo.svg
manuelapittera
2021-07-09 20:16:17
2023-02-28 17:03:18
Stories of disasters and dreams of the future