DisComPoSE has participated in the Curso internacional de estudios mediterráneos, a summer course organized by the Department of History and Archaeology of the University of Barcelona, which took place from 5th to 9th September.
This event, now in its second edition, is aimed at PhD students and young researchers interested in deepening their knowledge about some aspects of the political and economic history of Mediterranean cities and certain elements of continuity and discontinuity between the late middle ages and the early modern age.
This year's theme was Las ciudades y sus recursos. Agentes y espacios de la política y de la economía (siglos XIV-XVII). The lectures, held by scholars and researchers from various Spanish, Italian and French universities and research centres, were structured around five main themes: the network of consulates, the urban diplomacy, the agents of commerce, the response to natural disasters and the architectural and documentary heritage related to the political and economic history of cities.
The DisComPoSE group has guided the reflection on the 9th September with a session entitled Natural Disasters and Urban Policy opened by Domenico Cecere. He illustrated the different perceptions of calamities in the societies of the early modern age, and explained how they influenced social and cultural structures, collective behaviours and social practices.
Alfredo Chamorro focused his intervention on the policies of management and prevention of risk on the marine coasts, taking into consideration as a case study the troubled events linked to the construction of the port of Barcelona in the sixteenth and seventeenth centuries. Through the presentation of textual and visual sources of the early modern age, Milena Viceconte and Beatriz Álvarez Garcìa showed the organization of ritual practices performed in urban spaces in the aftermath of the catastrophe.
This session continued  with a presentation by young Italian and Spanish PhD graduated, including Annachiara Monaco who recently discussed her PhD thesis on the linguistic and narratological representation of the eruption of Vesuvius in 1631.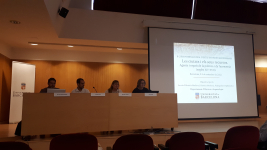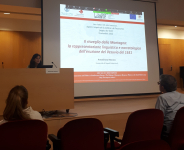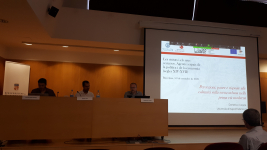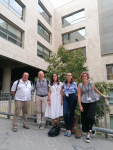 http://discompose.unina.it/wp-content/uploads/2022/11/Banner-ok_Barcellona.jpg
667
861
manuelapittera
http://discompose.unina.it/wp-content/uploads/2019/02/ultimo.svg
manuelapittera
2022-09-09 12:48:03
2023-02-23 09:35:57
Cities of the early modern age and their resources