What happens when Boiardo, Ariosto and Tasso leave the courts to enter the inns? This is the question that the researchers of the DisComPoSE group tried to answer together with Marina Roggero – author of the beautiful book Le carte piene di sogni. Testi e lettori in età moderna (The pages full of dreams. Texts and readers in the early modern age), published by Il Mulino. The reflection took place on 19th May during the fourth meeting of the Verba Manent series of seminars, entitled Consumption and reception of widely circulated texts in early modern Italy. The case of chivalric literature.
Although in the early modern age the great majority of the population was illiterate and the circulation of the press was controlled and viewed with suspicion, even common people were able to come into contact with books thanks to different modes of reception. The stories of chivalry, which were told by storytellers and loved in the courts as well as in the inns, show how fragments of famous works disseminated, sometimes mixed with popular legends. For this reason, the professor explored the case of chivalric literature and its transformations among different classes of readers.
An interesting discussion followed on the re-functionalizations of chivalrous topics in popular publishing, and on the relationship between popular genres, popular content and the levels of literacy of early modern readers.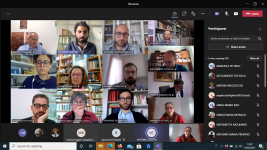 http://discompose.unina.it/wp-content/uploads/2021/06/Roggero_19-maggio-banner.jpg
316
512
manuelapittera
http://discompose.unina.it/wp-content/uploads/2019/02/ultimo.svg
manuelapittera
2021-05-19 14:37:11
2023-02-23 15:06:25
The reception of texts in early modern Italy