On 19th June 2019 the DisComPoSE team participated in Trobada entre historiadors (Meeting between historians), a stimulating seminar with students and teachers of History, Art History and Archaeology at the University of Barcelona, who were  on a study trip to Naples.
Among the lines of research of the Department of Humanities, it was possible to illustrate the study activities of the DiscComPoSE group and to focus, in particular, on environmental risks, emergency management, risk forecasting and prevention in Italy and the Iberian Peninsula, in the modern age as well as in more recent times.
The meeting took place at BRAU, the Humanistic Library of the University of Naples Federico II and saw the participation of Professors Domenico Cecere, Giovanni Muto, Piero Ventura, Stefano D'Ovidio, Joan Lluís Palos, Meritxell Anton and Ida Mauro.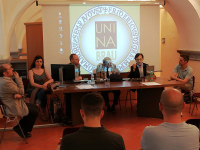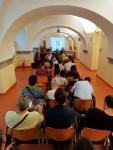 http://discompose.unina.it/wp-content/uploads/2020/04/IncontroConStudenti-spagnoli_19lgiugno2019_banner.jpg
897
2629
admin
http://discompose.unina.it/wp-content/uploads/2019/02/ultimo.svg
admin
2019-06-19 20:29:52
2023-02-26 19:56:37
Meeting with Spanish university students