About Popular culture in Italy. From Gramsci to Unesco by Fabio Dei (Bologna, Il Mulino, 2018).
The first meeting of Verba manent, a cycle of seminars curated by Vittorio Celotto and Gennaro Schiano, involved the participation of Professor Fabio Dei of the University of Pisa and Professor Valerio Petrarca of the University of Naples Federico II.
The discussion about the relationship between popular culture and hegemonic culture began with Fabio Dei's book Popular culture in Italy. From Gramsci to Unesco, published by Il Mulino publishing house in 2018, and with the complex and problematic argument that the author reconstructs in the first chapters.
The survey of the different phases of studies on popular culture also allowed us to discuss the different theoretical and methodological perspectives from which popular culture has been viewed over time and the different ways in which it has been defined with respect to the reflection of anthropological, historical, philosophical and philological-literary studies. In fact, popular culture has often been relegated to a marginal, ancillary or neglected position and still finds little space in school and university curricula today.
The meeting was introduced with a welcome from the director of the Department of Humanities of the University of Naples Federico II, Andrea Mazzucchi, and the Principal Investigator of the DisComPoSE project, Domenico Cecere.
The next appointment of Verba manent will take place on 28th April at 3.00 pm when Professor Ottavia Niccoli of the University of Trento will speak about the Transmission of news and cultural contents in Italy in the 16th century.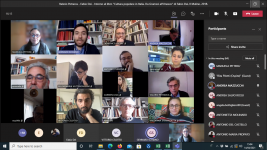 http://discompose.unina.it/wp-content/uploads/2021/04/Banner_-Fabio-Dei.jpg
461
965
manuelapittera
http://discompose.unina.it/wp-content/uploads/2019/02/ultimo.svg
manuelapittera
2021-04-14 15:41:56
2023-02-23 15:10:12
About the book "Popular culture in Italy"